November 13 Facilitator Training for Finding Meaning and Hope
September 25, 2023
|
7
Minute Read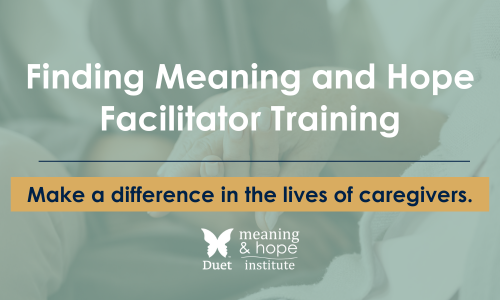 Become a Facilitator of Hope & Help Family Caregivers
Whether you are a healthcare or social services professional, support group leader, caregiver advocate, book club facilitator, or a caregiver ready to support others, the Meaning & Hope Institute is here to provide you with the training and guidance needed to prepare you for your journey as a Finding Meaning and Hope facilitator.
Join us virtually on November 13, 2023 for a half day training from 9:30 a.m. – 2:00 p.m. (AZ/Mountain).
About Finding Meaning and Hope
Finding Meaning and Hope is a powerful program designed to support family caregivers of individuals with dementia and is based on the eye-opening book, Loving Someone Who Has Dementia: How to Find Hope While Coping with Stress and Grief, by Pauline Boss, PhD. Developed by Duet: Partners In Health & Aging in 2016, this 10-part discussion series is led by trained facilitators who help caregivers to navigate topics like ambiguous loss; stress, coping, and resiliency; and the psychological family in a way that connects to their own journeys. Watch the video trailer below to learn more about Finding Meaning and Hope.
There are three main steps to becoming a facilitator:
1) Join us on an Introductory Zoom Call:
Date
Registration
Tuesday- October 10th
1:00 p.m. – 2:00 p.m. (PST/AZ Time)
Register for September 6th
Wednesday- October 25th
10:00 a.m. – 11:00 a.m. (PST/AZ Time)
Register for September 18th
or
Schedule an informational call with the Meaning & Hope Institute by filling out the information below:
2) Sign up and attend a half-day facilitator training on November 13.
3) Complete an hour certification meeting with the Meaning and Hope Institute team.
---
Questions? Call Ami Becker at (602) 274-5022, ext.132 or email at meaningandhope@duetaz.org
"We heard over and over again that the time spent in the group and what they learned was what got them through each week. I can say that most weeks it was just what I needed too, to keep giving and guiding."

Finding Meaning and Hope Facilitator