Deliver Compassion, Dignity, and Hope this Holiday Season
November 14, 2023
|
8
Minute Read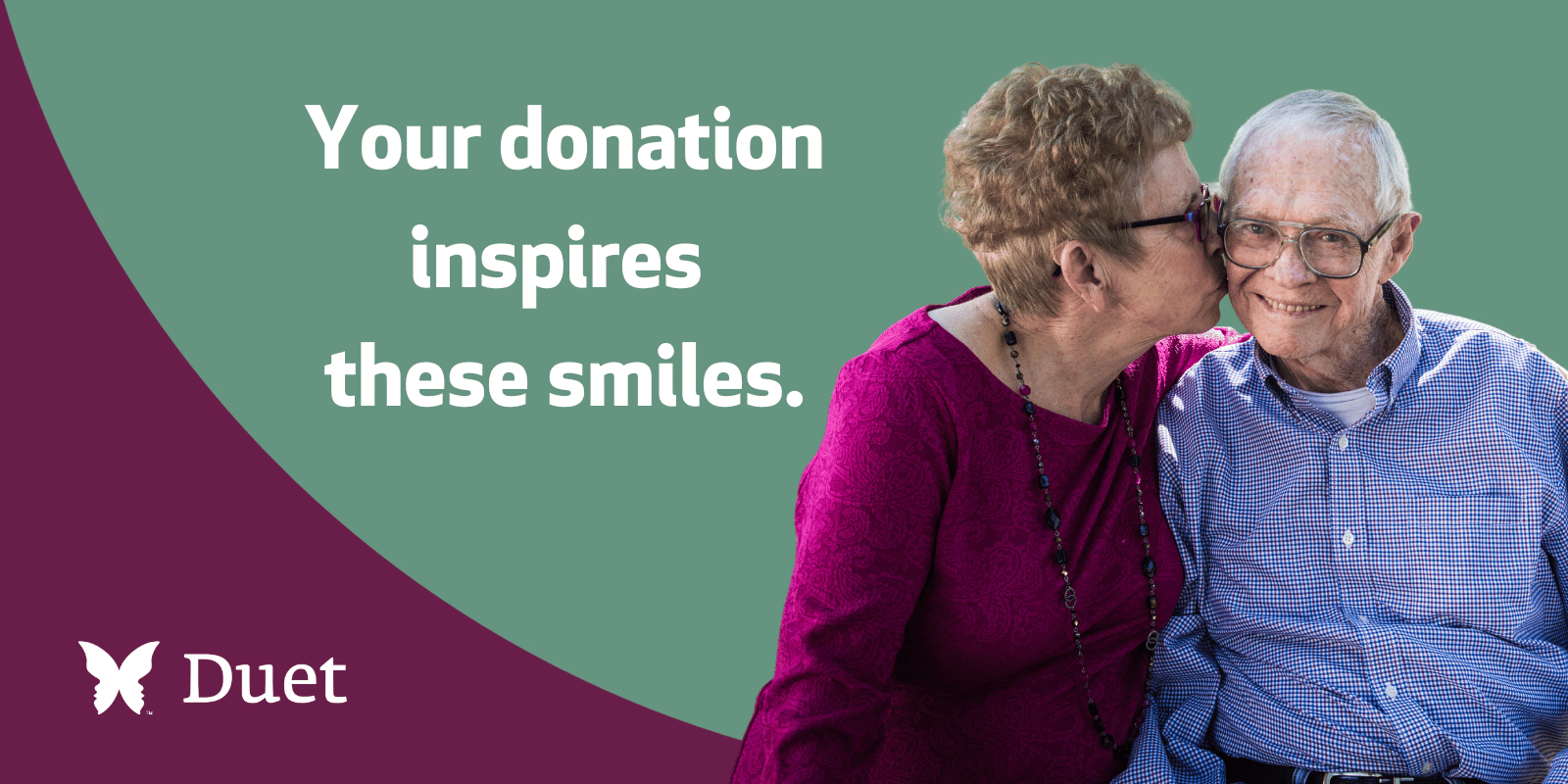 "There are people hurting the same way [as you] and they need your support."

Family caregiver, Judy Hunter, shares why Duet family caregiver support groups are so important.
Judy met Charles on a blind date when she was 17 years old. Together they embody the model of a deeply committed and enduring partnership. Loveland, Colorado, was their home for 28 years before moving to Phoenix in 2019, when Charles' health began to decline. At a towering height of 6'2", Charles is a big guy. However, as his cognitive challenges gradually increased due to the progression of the Alzheimer's disease, Judy began to fear she wouldn't be able to help him physically if he were to fall. She found safe haven for him at an assisted living facility.
Despite the care afforded to Charles at the facility, it became clear to Judy that it was taking an emotional toll on her as well. She learned about Duet's family caregiver support groups in passing from a fellow caregiver of a resident at the facility. "Duet is the best thing I ever did in my life." She adds, "You probably wouldn't know that I am an introvert—I don't do well in crowds—I am just truly grateful [for my group] and to not to have to go to a psychiatrist and pay $150 an hour so they can tell me to 'take deep breaths.'"
United by their challenges, Judy loves her Duet support group and has discovered strength through the commonalities shared with other caregivers facing similar challenges. "Being in that support group has opened my eyes more to my husband's abilities and what he [should] be doing at his level and it really has helped." She wants others to know that "without Duet and my support group, I think I would be having more trouble—it's been a saving grace for me."
This holiday season, you can also help family caregivers like Judy through your year-end gift…and all gifts to Duet are tax deductible. If you live in Arizona, they may be eligible for the Arizona State Tax Credit as well. A gift that, literally, keeps on giving!